Hey Darlings,
I realized that I haven't shared my thoughts on 2014 Girl of the Year Isabelle yet, so here they are: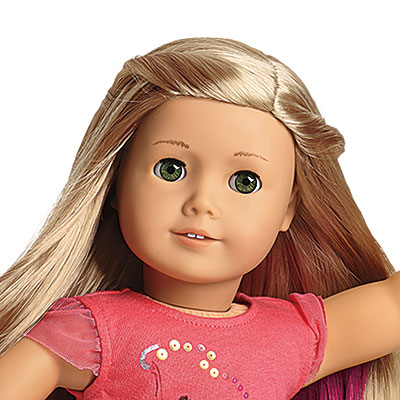 Isabelle is a very beautiful doll. I especially love her eye color!

When it comes to mix and match outfits, this is one of my favorite, minus the bow on the leggings



This studio is so adorable and detailed! I am not really a fan of Isabelle's dress though. It has to much going on. Her cat is super cute!



This outfit is alright as well. I don't really like the skirt. It is okay but personally is a little tacky. It may be better in person. I really like the bar set though!

I don't like her pj's either. They just aren't very cute. Again, it my just be the pictures, the pj's may be better in person. I also don't like the high prices. Over all Isabelle's collection is not high on my wish list. I think if it had more "everyday" clothes instead of just ballet attire I would like it more.
Please share your opinions and don't be afraid to contradict my thoughts!
- Jessica